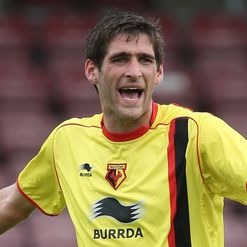 Swansea have moved to bolster their attacking arsenal ahead of their first Premier League campaign with a £3.5million bid for Danny Graham.According to Watford, the striker's current employers, they have accepted the Swans' bid and have therefore given the top-flight newcomers permission to discuss a contract with Graham.The 25-year-old hitman netted 24 goals in the npower Championship last season to top the scoring charts.The Swans bid is a record for the club, but the move is not necessarily a done deal. Rival clubs keen to sign Graham can now attempt to match or even surpass the £3.5million bid to snap up the striker right from under Swansea.
A statement on Watford's official website reads: "Watford Football Club confirms that it accepted a £3.5million bid for Danny Graham from Swansea City FC over the weekend.
"This means the player is permitted to talk to the Swans about his future.
"The 25-year-old striker remains under contract at Vicarage Road in the meantime."